Tufin
Company Overview
Tufin™ is the leading provider of Security Lifecycle Management solutions that enable companies to cost-effectively manage their network security policy, comply with regulatory standards, and minimize IT risk. Tufin's products SecureTrack™ and SecureChange™ Workflow help security operations teams to manage change, minimize risks and dramatically reduce manual, repetitive tasks through automation. With a combination of accuracy and simplicity, Tufin empowers security officers to perform reliable audits and demonstrate compliance with corporate and government standards. Founded in 2005 by leading firewall and business systems experts, Tufin serves more than 550 customers in industries from telecom and financial services to energy, transportation and pharmaceuticals. A respected member of the network security community, Tufin partners with leading vendors including Check Point, Cisco, Juniper, Fortinet and F5, and is committed to setting the gold standard for technological innovation and dedicated customer service.
---
Product Overview
Tufin SecureTrack™ is the most comprehensive solution available for managing and auditing firewalls, routers and switches. With support for all major firewall vendors, SecureTrack provides a cohesive, unified view of all of firewalls along with many other network devices. SecureTrack is essential to ensuring that a corporate security policy is being implemented consistently in an environment with multiple rulebases, geographies, and teams.
SecureTrack features:
Change monitoring and reporting
Security infrastructure optimization
Risk analysis and business continuity
Automated risk and audit reports
Firewall OS monitoring
Support for PCI-DSS and other standards
How it works?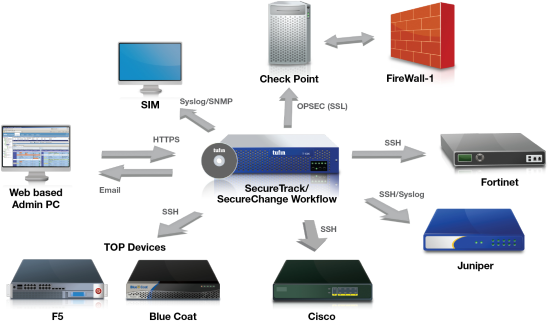 Tufin SecureChange™ Workflow is a unique solution that automates the entire lifecycle of a policy change request from submission through design, risk analysis, approval, implementation and auditing. SecureChange Workflow complements existing ticketing systems and makes them "security aware" – so you can proactively enforce security policy, manage risk, and comply with standards.
SecureChange Workflow features:
Security change automation
Proactive risk analysis
Security process management
Separation of duties
Business process templates
Integration with ticketing systems
How it works?

SecureChange Workflow features:
Request: Users submit change requests using simple, customizable forms.
Design: Administrators translate the user request into technical requirements.
Approve: Designated approvers review detailed risk analysis reports to determine whether the change is safe and compliant.
Implement: Firewall operators implement approved changes using standard vendor management tools.
Verify: Automatic verification ensures that changes are carried out exactly as approved.
Audit: Risk officers periodically review detailed documentation of change history for a complete audit trail.
For more information, please contact M.Tech AU Sales 02 8987 0400, ausales@mtechpro.com or contact your assigned M.TECH Sales Person