CyberArk
Company Overview
CyberArk is the only security company laser-focused on striking down targeted cyber threats, those that make their way inside to attack the heart of the enterprise. Dedicated to stopping attacks before they stop business, CyberArk is trusted by the world's leading companies — including more than 45% of the Fortune 100 — to protect their highest-value information assets, infrastructure and applications.
For over a decade CyberArk has led the market in securing enterprises against cyber attacks that take cover behind insider privileges and attack critical enterprise assets. Today, only CyberArk is delivering a new category of targeted security solutions that help leaders stop reacting to cyber threats and get ahead of them, preventing attack escalation before irreparable business harm is done. At a time when auditors and regulators are recognising that privileged accounts are the fast track for cyber attacks and demanding stronger protection, CyberArk's security solutions master high-stakes compliance and audit requirements while arming businesses to protect what matters most.
With offices and authorised partners worldwide, CyberArk is a vital security partner to more than 3,075 global businesses, including:
More than 45% of the Fortune 100
More than 25% of the Global 2000
CyberArk has offices in the U.S., Israel, France, Germany, Italy, Netherlands, Turkey, the U.K, Singapore, Australia and Japan.
To learn more about CyberArk, visit www.cyberark.com , read the company blog, https://www.cyberark.com/blog/ , follow on Twitter @CyberArk or Facebook at https://www.facebook.com/CyberArk .
Product Overview
CyberArk is the only security company that proactively stops the most advanced cyber threats – those that exploit insider privileges to attack the heart of the enterprise. The company has pioneered a new category of targeted security solutions to protect against cyber threats before attacks can escalate and do irreparable business damage.
Privileged accounts represent the largest security vulnerability an organisation faces today. In the hands of an external attacker or malicious insider, privileged accounts allow attackers to take full control of an organisation's IT infrastructure, disable security controls, steal confidential information, commit financial fraud and disrupt operations. Stolen, abused or misused privileged credentials are used in nearly all breaches. With this growing threat, organisations need controls put in place to proactively protect against, detect and respond to in-progress cyber attacks before they strike vital systems and compromise sensitive data.
CyberArk is the trusted expert in privileged account security. Designed from the ground up with a focus on security, CyberArk has developed a powerful, modular technology platform that provides the industry's most comprehensive Privileged Account Security Solution. Each product can be managed independently or combined for a cohesive and complete solution for operating systems, databases, applications, hypervisors, network devices, security appliances and more. The solution is designed for on-premise, hybrid cloud and OT/SCADA environments.
The CyberArk Privileged Account Security Solution is based on CyberArk Shared Technology Platform™, which combines an isolated vault server, a unified policy engine, and a discovery engine to provide scalability, reliability and unmatched security for privileged accounts.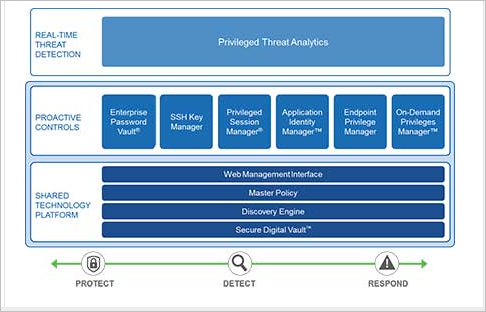 For further information, please visit: https://www.cyberark.com/products/privileged-account-security-solution/